Developing in C for the ATmega328: Exploring the ATmega328PB
Where I demonstrate how to use the ATmega328PB Xplained Mini from Microchip to understand how to program in Standard C.
Sources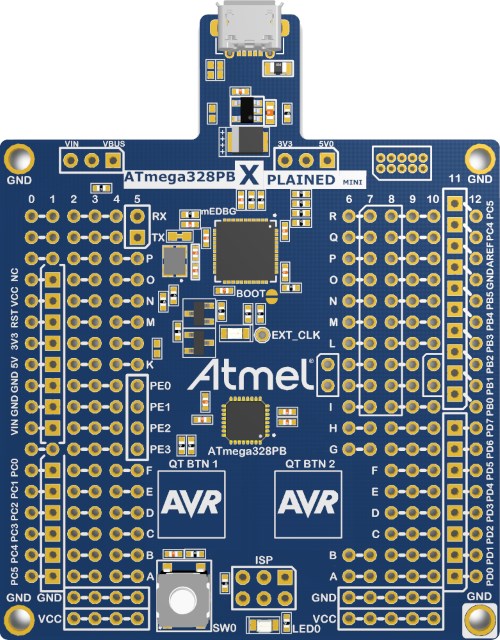 Introduction
Due to its size and shape, I wasn't a fan of this board, however, for the price, its fantastic! Why the conflicting thoughts? The good is that this board has an embedded hardware debugger which solves the controller board/debugger tool issue and it only costs $12! The bad is the board is physically large without adding extra value, thus it requires two breadboards to easily interface. All this said, I would recommend this board over any other, if you plan to do any hardware debugging.
The Atmega328PB is an enhanced version of the P version, it adds an UART, the ability to handle capacitor buttons and 2 extra timer/counters. Elliot Williams has a nice Overview of the chip.
Add to avr-gcc and avrdude
Here is a good description of how to add support for ATmega328PB to avr-gcc and avrdude. Just in case, it disappears, here is the text as well, along with my comments:
avr-gcc
Download ATmega's support pack from Microchip's website. Simply search for "mega_DFP", typically near the top.
Unzip the relevant files. I wasn't able to use unzip. I used Ark, a GUI file extractor and extracted the three individual files to the Desktop.
unzip -j Atmel.ATmega_DFP.x.y.zzz.atpack 

\


gcc/dev/atmega328pb/avr5/crtatmega328pb.o 

\


gcc/dev/atmega328pb/avr5/libatmega328pb.a 

\


include/avr/iom328pb.h

For the next two steps, I used sudo cp… to copy the files into /usr….
Place the .o and .a files in /usr/avr/lib/avr5/

Place the .h file in /usr/avr/include/avr/

Add the following to /usr/avr/include/avr/io.h. Just below the 328P.
#elif defined (__AVR_ATmega328PB__) || defined (__AVR_ATmega328__)


#  include <avr/iom328pb.h>

All set. Ready to compile.
avrdude
Add the following to /etc/avrdude.conf, right below the definition for ATmega328P.
part parent 

"m328"


	id          

=

 

"m328pb"

;
	desc        

=

 

"ATmega328PB"

;
	signature   

=

 

0x1e

 

0x95

 

0x16

;

	ocdrev      

=

 

1

;
;

I added a line similar to AVR_PORT to the Makefile, this makes it easy to switch between programming environments. From the github site: You will need to add:
export 

AVR_PORT

=

/dev/ttyACM0 

# replace this port name with the one you are using


export 

AVR_MCU

=

atmega328pb 

# replace this mcu name with the one you are using



in your .bashrc or .zshrc file. The Makefile will pick this for serial communications with the Uno and for compiling/loading to the proper processor (be sure to source or restart after editing the rc file). The Uno requires a atmega328p and the XPLAIN board has a atmega328pb.